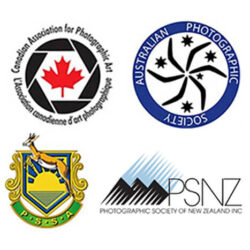 Four Nations International Salon
Inter-Society digital image competition organised annually between the photographic organisations in New Zealand, Australia, South Africa and Canada.
Entries are digital, in the following categories: Open, Monochrome, Nature, Our Country.
Information on next Four Nations International Salon will be posted as soon as it is available.
Each year FIAP, The International Federation of Photographic Art holds an international competition for affiliated countries. This alternates between Monochrome and Colour.
This link will take you to the official FIAP site where you can view the results and images from recent Biennials.
PSNZ's submission is coordinated by FIAP Liaison Officer Ann Bastion FPSNZ EFIAP MFIAP.
Details for each year's submission (Theme, image format requirements) can be found in the private members' area.
The FIAP World Cup is an international projected images competition between camera clubs. Entries to this event are organised by individual local clubs, which enter directly to FIAP, not via the PSNZ Liaison Officer.
Most clubs already hold competitions within their own membership or between local clubs. This is a great way to get your club team to compete in a large international interclub competition event.